We have compiled a list of 14 Exotic Recipes of New Zealand for you to treat your family with. These are foods from many cultures including the Moari, one of the first humans to live in what is now New Zealand. This makes it one of the last known areas on our planet to have humans.
New Zealand Cuisine
One of the earliest island dwellers is known as the Lapita​ people, identified by remains of their pottery which has distinctive patterns of indentation. Lapita sites first appear around the Bismarck Archipelago (New Guinea) about 3350 years ago, and the Lapita were the first people to settle Vanuatu, New Caledonia, Fiji, Tonga, and Samoa, about 3000 years ago. [5]
Pavlova, one of the icons in Australian and New Zealand cuisine.
New Zealand cuisine is largely driven by local ingredients and seasonal variations. An island nation with a primarily agricultural economy, New Zealand yields produce from land and sea. Similar to the cuisine of Australia, the cuisine of New Zealand is a diverse British-based cuisine, with Mediterranean and Pacific Rim influences as the country becomes more cosmopolitan.
Historical influences came from British cuisine and Māori culture. Since the 1970s new cuisines such as New American cuisine, Southeast Asian, East Asian, and South Asian have become popular. The Māori term kai is widely used in New Zealand to refer to food, especially traditional Māori cuisine. [3] We have tried to infuse both imported and authentic New Zealand food traditions and recipes of New Zealand to show you how diverse the food options are here.
Contemporary New Zealand Food Scene
As a result of various developments, the food scene of New Zealand in the early 21st century is in a state of flux: cosmopolitan Pacific Rim fare's reign is now the norm in much of metropolitan eating out scenes,[c] and traditional hearty settlers food, now dubbed Kwisine Kiwiana, but reinterpreted through Pacific Rim cooking knowledge, is a popular cooking style for eating out scenes even in the most remote rural regions.
Most of the home cooking prepared at households in Auckland is now a mix of traditional Kiwiana dishes heavily modified by the Mediterranean and Asian techniques and ingredients and adapted versions of Mediterranean, Chinese, and Indian dishes. In the more culturally traditional parts of the country, such as rural Canterbury and the West Coast, however, traditional Kiwiana fare is still the norm at many homes.
Certain vestiges of traditional Kiwiana dishes remain popular throughout the country, such as fish and chips, meat pies, custard squares, pavlova, and others. An active nostalgia movement supports the traditional Kiwiana cuisine, as spearheaded by the popularity of the television series Kiwi Kitchen presented by Richard Till, which is believed to be a public response to a common perception that the traditional Kiwiana dishes are disappearing from the New Zealand tables. Home baking is particularly believed to be the last bastion of New Zealand cuisine still unaffected by international trends.
Concurrently, food habits are changing in Australia to lighter fares influenced by the Mediterranean, and subsequently Southeast Asian, styles of cooking. The proximity, common history, and strong modern political, economic, cultural, and family ties between the two countries means many New Zealand diners and chefs have always been well informed of the trends in the Australian dining scene. Many chefs had worked in Australia and endeavor to learn from their trans-Tasman counterparts, and in time the changing Australian culinary scene has trickle-down effects on the New Zealand cuisine as well.[4]
New Zealand Food FAQ
1. What Foods is New Zealand famous for? – Recipes of New Zealand
While you're in New Zealand, seek out a couple of the following quintessential Kiwi foods. Seafood. With more than 14,000 kilometers of coastline, New Zealand is home to some amazing seafood.
a. Roast lamb.
b. Māori hāngī
c. Fish and chips.
d. Cheese and wine.
e. Barbeque.
f. New Zealand desserts.
g. New Zealand lollies (sweets and candies)
2. What is traditional Kiwi food? – Recipes of New Zealand
Popular kinds of seafood include mussels, pipis, tuatua, bluff oysters, kina, paua, and if you venture upriver 'Whitebait' is considered a delicacy often made into 'Whitebait Fritters'. A classic kiwi meal is 'Fish 'n' Chips' where fresh fish is deep-fried in batter accompanied with hot fries and served wrapped in newspaper.
3. What is a typical breakfast in New Zealand? – Recipes of New Zealand
Breakfast. A typical New Zealand breakfast consists of cereal (especially the iconic Weet-bix for kids) and some toast which is accompanied by a cup of coffee, tea or a glass of juice or milk. Sometimes on the weekend, there is time for a cooked breakfast (as appears in the photo at the top).
4. What is the most popular drink in New Zealand? – Recipes of New Zealand
Lemon & Paeroa: L&P can be found in many Supermarkets in most countries, and it's said to be the most popular drink in New Zealand.
5. What is considered to be a New Zealand dessert? – Recipes of New Zealand
Pavlova is a traditional dessert in New Zealand, and Australia claims it as well. It is a meringue base that is filled with whipped cream and usually kiwifruit.
6. Why is New Zealand ice cream so good? – Recipes of New Zealand
New Zealand is world-famous for the quality of its dairy products, which are in turn the result of a clean environment, year-round grazing on outdoor pasture, a technologically advanced dairy industry, and strict quality and hygiene standards.
1. New Zealand Savories – Recipes of New Zealand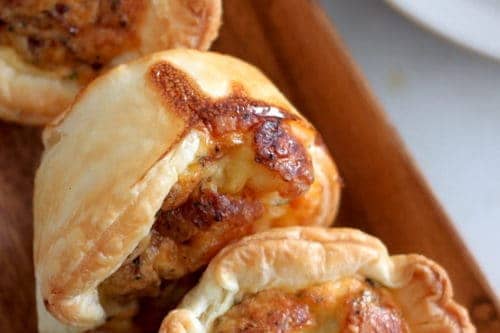 This is a great New Zealand food traditions for some tasty little pies from Jessica Burns and one of my favorite recipes of New Zealand. Here is her short description "Growing up my mum would throw these parties, you know, the kind with lots of food and inevitably Savories would be on the menu.
I remember her making dozen after dozen in the week leading up to the event and stacking them in plastic bags in the freezer.
I grew up calling these little egg tarts Savories and they really are no more than that; very simple to make and people love them – bacon and cheese how could you go wrong?! Just another quick appetizer option perfect for your next gathering!" [1] For one of the great New Zealand food traditions for any occasion, you have to try these from my recipes of New Zealand I had on my own trip there.
2. New Zealand Roasted Chicken with Herbs and Lemon – Recipes of New Zealand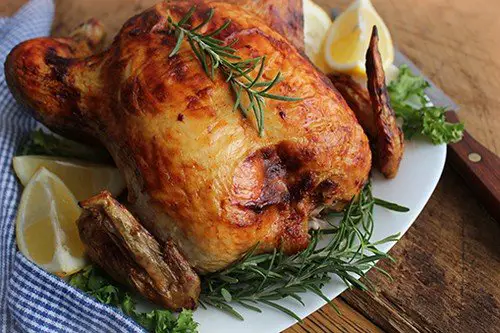 When we talk about enjoying authentic recipes of New Zealand, it's important to bear in mind that the people of this nation with its deep British heritage tend to eat very much as we do but, that does not mean they are lacking in their own New Zealand food traditions.
Certainly, its Pacific Island location affords plenty of seafood and fish; lamb is its iconic meat, but it supplies its own beef and poultry as well, with access to plenty more across the strait from Australia, which Kiwis jokingly refer to as "The West Island." But when it becomes time to prepare this bounty for dinner, the result is likely to strike us Yanks as more akin to Mom's comfort food than anything exotic.
3. Afghans – New Zealand's Famous Biscuits – Recipes of New Zealand
The recipes of New Zealand choice comes from New Zealand's most popular and one of its oldest, recipe books – Edmond's. The book was so popular that for a few years after its release, engaged couples were sent a copy of the book for free because no wife should be without one. I wish that was still the go. I am one-quarter Kiwi so I think that would entitle me to one.
According to a bit of Googling, the name has nothing to do with Afghanistan but it more related to the dark color of the biscuits. Apparently, no one actually knows for sure where the name came from. Whatever the origin, the Kiwis love them and I can see why. They're easy to make, use pretty simple, inexpensive ingredients, and are just scrumptious. [2]
4. New Zealand Kumara salad – Recipes of New Zealand
New Zealand Kumara salad is one of the perfect recipes of New Zealand that are usually served alongside grilled lamb chops.
Kumara is sweet potatoes and was originally brought to New Zealand by the Maori people. Kumara is and has been a staple ingredient in the Kiwi diet and a staple New Zealand food traditions side dish.
This is a lovely salad with the roasted sweet potato adding a touch of sweetness to it. The salad was is made with watercress which is a native ingredient found along the edges of freshwater rivers and creeks around New Zealand. It can be enjoyed raw or cooked and has a mild mustard flavor. In New Zealand, it is called Kowhitiwhiti in the Maori language.
The salad also has fresh crumbled goat cheese and some pine nuts. The combination of texture and flavors is superb, you will love this salad.
5. New Zealand Rosemary Lamb Shanks – Recipes of New Zealand
A braise is like a stew, but requires less liquid and has a longer cooking time. There are many of these types of dishes in every book containing Recipes of New Zealand cookbook and this is one of my favorites. Allow about two and a half hours for the lamb to cook on top of the stove. Serve green beans and the polenta with it. Pour a Cabernet Sauvignon.
Lamb shanks are slowly simmered with fresh rosemary, garlic, tomatoes, and red wine. Great served with polenta, or my family's favorite–roasted garlic mashed potatoes–as you need something to soak up the wonderful sauce. A fantastic dish for company, as all the prep work is done at the beginning, and then you just have to wait.
6. Christmas Stollen and Ice Cream Pudding – Recipes of New Zealand
This is an old German recipe. Traditional sweet bread is a Christmas treat. We have it for breakfast with Strawberry champagne.
Stollen can be sliced and served with butter, honey, or jam. You may toast, or microwave individual slices before eating. How should the Stollen loaves be stored? Store stollen in a cool dry place such as a breadbox or a cool place in your kitchen. Finally, after the loaves have cooled, sprinkle over an even more generous quantity of powdered sugar.
After a day or so, the sugars and butter will have hardened into an irresistibly sweet, candy-like shell that not only tastes amazing but also keeps the heart of the stollen from drying out. While this is an old-world tradition brought to the country it is now a favorite holiday recipe of New Zealand
7. New Zealand Kiwi Bread – Recipes of New Zealand
This New Zealander sweet bread is a New Zealand food tradition that is made with a combination of ripe kiwi, eggs, oil, lemon peel, brown sugar, flour, baking powder, and baking soda. The kiwis are mixed with sugar and lemon peel, then boiled before being combined with eggs, oil, flour, baking powder, soda, and salt.
The mixture is poured into a loaf pan, then topped with icing (consisting of powdered sugar and lemon juice) before baking. The bread doesn't have a strong flavor because the kiwis lose some of their tartness after being cooked. Once baked, kiwi bread should be moist, with a nice citrus tang coming from the icing.
This is one of the more iconic recipes in my list that is more a recipes of New Zealand dish that was not imported from elsewhere.
---
Now that you have read the New Zealand Recipes post, what's next? Let's learn more about food in other surrounding areas.
Great Aussie Recipes
Burmese Recipes from Myanmar
15 Laotian Recipes
Our Favorite Recipes from Vietnam
10 Best Traditional Philippine Recipes
---
8. Pavlova – New Zealand's National Dish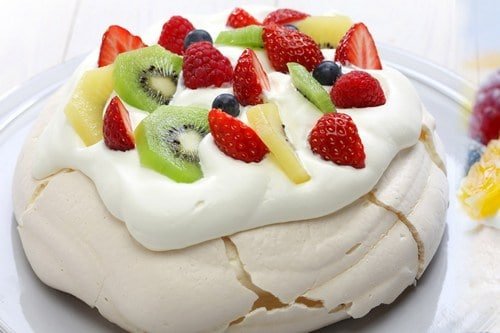 Pavlova is considered to be New Zealand's national dish. It is, in fact, a sweet dessert made of a meringue base topped with whipped cream and slices of fresh fruit.
It is believed to be named in honor of the Russian ballerina Anna Pavlova who visited the country in the 1920s. Pavlova is prepared for celebrations and holidays including Christmas.
9. New Zealand Lolly Cake – Recipes of New Zealand
The Colorful And Sweet Lolly Cake Recipe Is Another New Zealand Endemic Wonder in our recipes of New Zealand favorites list. Slices Of The Biscuit And Condensed Milk Log Reveal Colorful Hidden Marshmallow Treats.
No one seems to really know what the origins of the popular Lolly cake recipe truly is. But one thing for sure, it is one of the most popular treats to be found in New Zealand bakeries, kids' lunch boxes, and in the top New Zealand food recipes for school fairs. This is another New Zealand food tradition that is served throughout the country throughout the year.
10. New Zealand Mussel Chowder – Recipes of New Zealand
A mussels recipe just might be the answer you're looking for if your question is what to make for dinner tonight that's both quick and special-feeling.
Whether they're simply steamed, sauced up, or tossed with pasta, mixed into a seafood stew, or blitzed into a bisque, mussels are easy to cook and fun to eat. Once you've purchased, cleaned, and debearded your shellfish, this recipe will help on your way to an elegant dinner—yes, even on a Tuesday.
Try this unique recipe of New Zealand favorite for a tasty chowder dish.
11. New Zealand Lamb Chops with Mint Sauce – Recipes of New Zealand
Summer is in full effect. With the warmer, longer days always comes the onslaught of grilling season. There's something magical about starting your own fire and using it to cook food that I love whenever I get the chance.
Living in a New York City apartment I don't have the opportunity to grill outside very much. For the times when I'm craving some nice crosshatches and a taste of New Zealand without having to find someone with a backyard, I turn to my trusty grill pan.
12. New Zealand Almond and Fig Bread – Recipes of New Zealand
We loved the country and adored the people, but it would have been worth the trip just for this amazing bread by Dean Brettschneider, a professional baker and creator of many of the recipes of New Zealand. The recipe has since appeared in a book he wrote with our mutual friend Lauraine Jacobs, former president of the International Association of Culinary Professionals. This stunning bread is encrusted with sliced almonds and gilded with an apricot glaze.
The crumb is dense and studded with chopped almond and dried figs, with one whole fig implanted right in the center, which, when cut, resembles a heart. The bread is delicious without further adornment, but it is also perfect with blue cheese. My favorites are mild Cambozola blue and Saga blue.
13. New Zealand Hunter's Pie – Recipes of New Zealand
Game meats are an important part of New Zealand culture and cuisine, and a number of different meats are combined together here in a delicious hearty pie. Hare, wild pig, and venison share a gaminess that is brought together with a minerally pinot noir. If using meat from farmed animals perhaps limit the dish to farmed venison only, as rabbit and pork will not have the same depth of flavor as their wilder cousins.
The recipes of New Zealand favorite is centuries old and a staple since the days of the early settlers of the country. With limited meats available they had to learn to make use of the wild animals that were available to them.
14. Māori Fish Salad & the legend of New Zealand- Recipes of New Zealand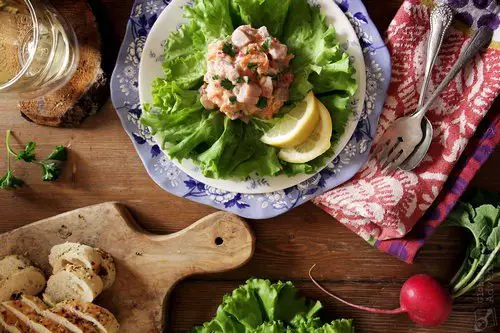 One of the very first recipes of New Zealand is far older than the foods of the early white settlers. Centuries before them the Maori migrated to the country from other Asian Pacific Islands. This is one of the staple recipes.
As the story goes, Māui paddled his canoe far out into the ocean in search of a big catch. He used his ancestor's jawbone as a fish hook, coating it with blood from his nose.
Down, down, down went the hook, into the depths of the deep blue waters. After some time, the slackline tightened. It took all Māui's strength to reel in the heavy fish. Stumbling under the effort, Māui had to brace himself on the edge of his canoe as he pulled the line, up, up, up.
When the fish finally rose out of the water, Māui gasped. It was the largest sea creature he'd ever seen, big enough to blot out the horizon, with shiny green scales.
[4] Contemporary New Zealand Cuisine