10 Best Traditional Philippine Recipes
Try these top 10 Traditional Philippine Recipes. All of these were part of our day to day diet while living in the Philippines. The tradition in all of SE Asia is not to have a center item with side dishes as in the west but more like a Tapas Bar in Spain. 10 or more dishes to pick and taste from during every meal.
Filipino cuisine (Filipino: lutuing Pilipino/pagkaing Pilipino) is composed of the cuisines of more than a hundred distinct ethnolinguistic groups found throughout the Philippine archipelago. However, a majority of mainstream Filipino dishes that compose Filipino cuisine are from the cuisines of the various ethnolinguistic groups and tribes of the archipelago, including the Ilocano, Pangasinan, Kapampangan, Tagalog, Bicolano, Visayan (Cebuano, Hiligaynon, and Waray), Chavacano and Maranao ethnolinguistic groups.
The style of food making and the food associated with it have evolved over many centuries from their Austronesian origins (shared with Malaysian and Indonesian cuisines) to a mixed cuisine of Indian, Chinese, Spanish and American influences, in line with the major waves of influence that had enriched the cultures of the archipelago, as well as others adapted to indigenous ingredients and the local palate. Traditional Philippine recipes is a mishmash of so many origins it is sometimes difficult to determine what the mixtures are.
Traditional Philippine Recipes range from the very simple, like a meal of fried salted fish and rice, to fish curry, chicken curry, complex paellas and cozidos of Iberian origin created for fiestas.
Popular Traditional Philippine Recipes dishes include lechón (whole roasted pig), longganisa (Philippine sausage), tapa (cured beef), torta (omelet), adobo (chicken or pork braised in garlic, vinegar, oil and soy sauce, or cooked until dry), dinuguan (pork blood stew), kaldereta (meat stewed in tomato sauce and liver paste), mechado (larded beef in soy and tomato sauce), pochero (beef and bananas in tomato sauce), afritada (chicken or pork and vegetables simmered in tomato sauce),
Others are kare-kare (oxtail and vegetables cooked in peanut sauce), pinakbet (kabocha squash, eggplant, beans, okra, and tomato stew flavored with shrimp paste, crispy pata (deep-fried pig's leg), hamonado (pork sweetened in pineapple sauce), sinigang (meat or seafood in sour broth), pancit (noodles), and lumpia (fresh or fried spring rolls).
Various food scholars have noted that Filipino cuisine is multi-faceted and is the most representative in the culinary world for food where "east meets west".
  1. Chicken Adobo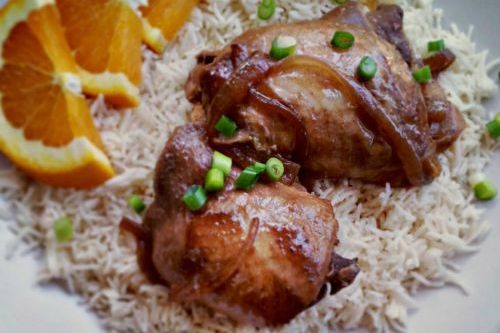 2. Mais con Yelo  
Mais con Yelo
In the Philippines, mais con yelo is a traditional dessert of crushed ice layered with corn kernels and sweetened milk. For this version, inspired by the "special halo-halo" served at chef Jonathan Dario Salvador's restaurant Inapuyan in Candon City, the milk and ice are combined with puréed corn to make a delicious granita, which is piled over fresh corn in syrup and topped with crunchy cornflakes.
Check out this recipe
  3. Filipino Picadillo  
Filipino Picadillo
Filipino Picadillo is a delicious, one-skillet dinner made with ground beef, potatoes, raisins and vegetables in a flavorful sauce.
Check out this recipe
  4. Shrimp in Coconut Milk  
Shrimp in Coconut Milk
Ginataan na Hipon (Shrimp in Coconut Milk). This recipe today is very easy to prepare. It is done in less than 30 minutes and boy, the taste and smell of this meal are just awesome. This Ginataang Hipon is a hearty soup meal that I always prepare when I don't have time to whip some meal after work. Easy, delicious, and smells good.
Check out this recipe
  5. Sisig  
Sisig
Sisig — or chopped pork that's been boiled, grilled, and fried — is a staple of the cuisine and one of the most often prepared of all traditional Philippine recipes. And here, Amelia Rampe shares the breakfast version she makes every year for Christmas. She uses pork belly (instead of pork bits), streamlines the cooking method, and tops it all with fried eggs.
Check out this recipe
---
Now that you are checking out the Top 10 Traditional Philippine Recipes, what's next? Let's learn more about Other Country's Top Recipes.
20 Great Aussie Recipes From Our Trip
21 Great Greece Recipe Options From Our Trip
10 Best Traditional Dutch Recipes From Holland
Our 10 Best German Recipes To Make At Home
Our 10 Favorite Spain Recipes To Make At Home
---
  6. Pork and Shrimp Pancit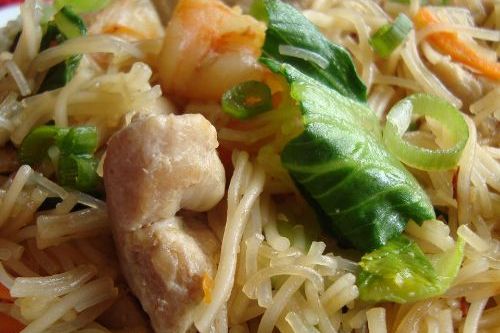 Pork and Shrimp Pancit
A traditional Pancit taught to me by a Filipino friend while stationed overseas. Delicious and easy! Thanks, Jesus! A delicious and easy stir fry using rice noodles, veggies, and either shrimp, chicken, or pork or beef. This was a family favorite to make, and I love how easy it is to throw together.

Check out this recipe
  7. Ground Pork Menudo  
Ground Pork Menudo
Menudo is a Spanish-influenced stew that is popular in Filipino cuisine. Traditional Menudo is commonly eaten for lunch or dinner and consists of cubes of pork simmered in tomato sauce, with vegetables added afterward. This recipe uses ground pork instead, which is a practical variation and an easy way of making Menudo.
Check out this recipe
  8. Bistek With Onion and Bay Leaves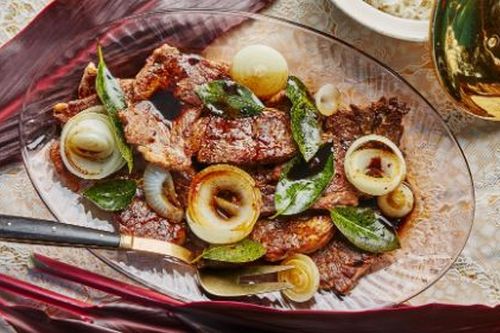 Bistek With Onion and Bay Leaves
Filipino Christmas menu here — and one of the centerpieces is this simple (yet incredibly flavorful) steak and onion dish.
Check out this recipe
  9. Pesang Isda with Ginisang Miso  
9 Pesang Isda with Ginisang Miso
Pesang Isda with Ginisang Miso is one combination that I enjoy eating with rice. The main dish is fish that was cooked in the ginger broth along with green leafy vegetables. It has a nice and mild flavor. Ginisang miso, on the other hand, is sautéed yellow miso with tomato and crumbled tofu. It is quite flavorful. This is the reason why both dishes go well when eaten together.
Check out this recipe
  10. Ginisang Ampalaya na May Itlog at Hipon (Sauteed Bitter Gourd)  
Ginisang Ampalaya na May Itlog at Hipon (Sauteed Bitter Gourd)
I understand that one might need to develop an acquired taste in order to appreciate bitter gourd (also referred to as bitter melon). I am one of those people who were trying hard to configure their taste buds for this vegetable. Eventually, I was able to adapt. I started by making the bitter gourd less bitter (in a way that I can call it semi-bitter gourd). This involves slicing it in thin pieces and soaking in water with salt. The salt helps take the bitterness out. I then wash it in running water to remove the salty taste. How about you? What do you do to make this vegetable less bitter?
Check out this recipe