French cuisine developed throughout the centuries influenced by the many surrounding cultures of Spain, Italy, Switzerland, Germany, and Belgium, in addition to its own food traditions on the long western coastlines of the Atlantic, the Channel, and of course inland. Cheese and wine are a major part of the cuisine. They play different roles regionally and nationally, with many variations and appellation d'origine contrôlée laws.
Today we will talk only about Traditional French Comfort Food Recipes. This is the food you will find being cooked in kitchens and small foodie stops throughout the country. The food of the common french family.
French Comfort food recipes create food that provides a nostalgic or sentimental value to someone and may be characterized by its high caloric nature, high carbohydrate level, or its simple preparation. The nostalgia may be specific to an individual, or it may apply to a specific culture.
Consuming energy-dense, high calorie, high fat, salt, or sugar foods, such as ice cream, chocolate or french fries, may trigger the reward system in the human brain, which gives a distinctive pleasure or temporary sense of emotional elevation and relaxation.
When psychological conditions are present, people often use comfort food to treat themselves. Those with negative emotions tend to eat unhealthy food in an effort to experience the instant gratification that comes with it, even if only short-lived.
Try All 10 of Our Favorite French Comfort Food Recipes
1. Classic French Gratin Dauphinois
2. Simple Weekend Quiche
3. The Ultimate Potato Gratin
4. French Boeuf Bourguignon
5. Soupe A L'Oignon Gratinee (French Onion Soup)
---
Now that you are checking out the 10 Best French Comfort Food Recipes, what's next? Let's learn more about Other Country's Top Recipes.
Our 10 Favorite Spain Recipes To Make At Home
10 Best Traditional Dutch Recipes From Holland
21 Great Greece Recipe Options From Our Trip
Our 10 Best German Recipes To Make At Home
10 Best Traditional Philippine Recipes
---
6. Buckwheat Pancakes with Mushrooms and Egg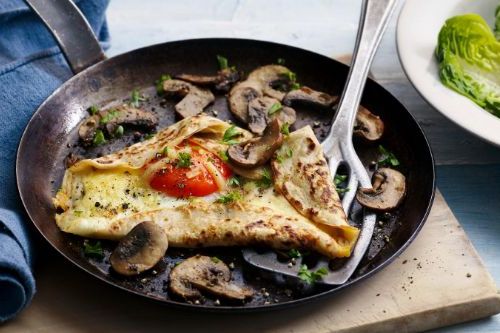 7. Rolled Pork Florentine
8. Crustless Broccoli Quiche
9. Gruyère Cheese Soufflé
10. Traditional French Comfort Recipes for Ratatouille
Try all 10 of the French comfort food recipes and leave message here or on our Pinterest account letting us no what you think.